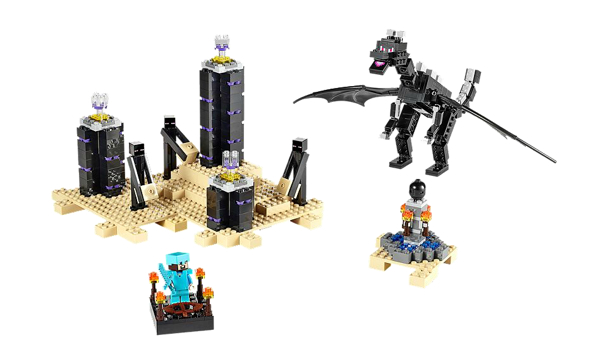 Ready to get your hands on some more Minecraft LEGO sets? How about this end-themed collection, featuring an ender dragon, a few endermen, ender crystals, and a diamond-clad Steve! There is even an ender dragon egg, because Steve needs something to collect after defeating his greatest enemy!
The Ender Dragon Set currently retails for $69.99, and totals over 634 pieces. The ender dragon itself is a little over 8 inches long, a little bit larger than the set itself! Just don't ram the dragon into the obsidian pillars, because he won't go straight through them.
...not that I've tried that...
The Page New Minecraft LEGO Sets: "The Ender Dragon" was first posted on 7:03 pm, January 2, 2015 in the category Minecraft Forum it has been viewed 7580 times.
Share
Page Details
Views: 7580
Short Title: New Minecraft LEGO Sets: "The Ender Dragon&qu..
Full Title: New Minecraft LEGO Sets: "The Ender Dragon"
Raw Date: 2015-01-02 19:03:23
Nice Date: 7:03 pm, January 2, 2015
Rating: 0
Content Length: 597